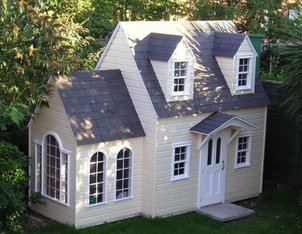 Tinytown Playhomes have been designing & building unique children's playhouses for over 10 years.

Ever since the first Mansion (left) was built in our own back yard we had a desire to build more, & that's exactly what we did & we haven't looked back.

To date we have delivered hundred's of playhouses in many styles, each one unique in one way or another, with many options such as conservatories, balcony's & full staircases.

There's plenty more designs in progress & we never seem to run short of ideas.

Each one of our play house's are designed & built with an incredible amount of detail by our craftsmen with the best quality materials and finished with a factory paint finish, which inevitably pushes the price beyond the budget of everyone, & that is why we have already started making plans to build a play village filled with our creations so that everyone can join in the fun.